Ladies Fit
The prices listed do not include VAT or embroidery.
If you are after something specific or don't see anything that suits you please contact us.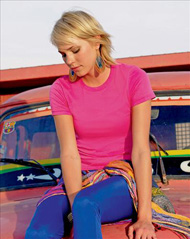 Prices (ex VAT):-
1-20
£10.00
per item
20+
£9.00
per item
plus 50p per 1000 stitches

Fruit of the Loom
Lady-Fit Valueweight
Description:
Feminine fit with shaped side seems. Cotton/Lycra rib crew neck with taped neckline.
Weight:
White 160gm/m² - Colour 165gm/m²
Available Sizes:
XS - S - M - L - XL - XXL
* only available in certain colours.